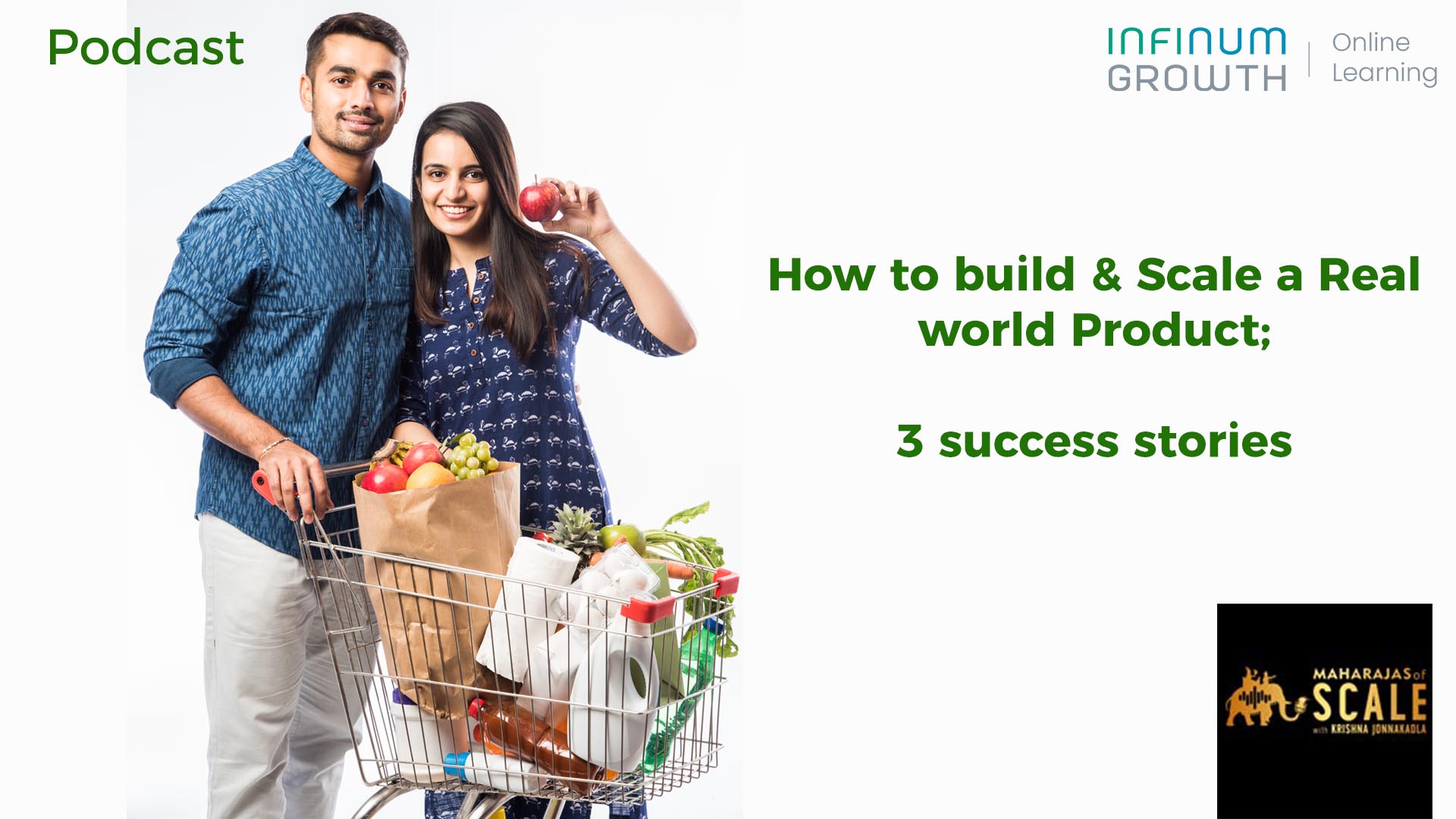 The Real world is the world of today; as it is! While a lot of progress has happened over centuries and millennia; and, there's a lot of envisioning happening to move to the next phase of developing the world in every sphere; the truth is that there are hundreds of small problems that we have learnt to live with, for centuries.
Not a day passes without reading about another startup that is changing the world. However, have you ever wondered what it takes to build and grow a Real-World Product?
Unlike Software or Technology products, Real World Products face a variety of other challenges. In this podcast curation, we present 3 stories for you to listen and learn from.
Why you should listen to these stories
Humans learn well when learning is in the form of stories. These Stories will make you SMARTER…..FASTER. Better yet, if the stories are from the Real World, they infuse a great sense of reality to our own dreams and our ideas. That is why we present these stories to you.
"The 3 stories that you will hear and learn from are of people with normal backgrounds, like you and me, who found their own paths and methods to making their products and businesses successful", says Krishna Jonnakadla, Founder, Maharajas of Scale, the Podcast Venture which brings these stories to you.
In the story of Anindita of Yoga Bars, you will learn how she doesn't come from an entrepreneurial family; and yet, took a plunge, for a problem she was passionate about. Listening to Deep Bajaj's story,  you will learn the concept of energy vampires that you should avoid; And with PC Mustafa, you will learn how PC, who was hesitant to ask the security guard of IIMB to let him in, eventually became a hall of fame businessman feted by the same IIMB.
They all faced significant challenges, yet overcame them. What were the methods they adopted and what were the strategies? How are they growing their brands? How are they innovating? You will find tons of learnings like in the stories of the following 3 brands –
Yoga Bars: Anindita Sampath and her sister brought a pragmatic approach to figuring out how to make the bars and were also smart in taking advantage of the digital commerce trend to scale their reach. Even though she is not from an entrepreneurial family, it feels like she knows the basics and like a good startup. Their focus and clarity has helped them scale to where they have.
Peebuddy: Deep Bajaj realized on a road trip with his wife the complications women face with personal hygiene and toilet cleanliness or the lack of toilets.  Deep's start-up Peebuddy and Sirona- hygiene products for women, is a result of several bad experiences women around him faced; including his mother, wife & female friends.
ID Fresh: PC Mustafa or PC as he prefers to be called, walked miles to go to school, in his home town in Kerala. At a certain point, he considered dropping out as he was a below average student. But things turned around in his life, thanks to his own determination to succeed; And he made it to IIM Bangalore. PC worked with large companies after his IIM stint, but the zeal to do something different got to him. So he took the mundane activity of making Idli batter and gave it a whole new meaning; making a huge difference to millions of homes where Idli/Dosa breakfasts are a routine.
Who should listen to this:
If you are –
1. A college student wanting to understand how a real world products business works
2. A marketing professional who wants to learn more about marketing and distribution
3. An entrepreneur or planning to be one to learn about how to run a business
4. A business owner who wants to know how to keep customers happy
5. A product manager who wants to learn about launching products
6. Someone who believes in the power of people who can change the world around us for the better
Listen to the three entrepreneurs, as they speak to Krishna Jonnakadla of Maharajas of Scale, explaining their personal journeys in building their real world product businesses.
Learning Video Content
(
1 Module(s)
|
3 Session(s)
|
3 hour(s)
)
How to Build and scale a real world Product

Yoga Bars – The story of a rapidly scaling healthy breakfast brand

Peebuddy- Making Public Toilets safe for women

ID Fresh – Making Indian breakfast easy to cook