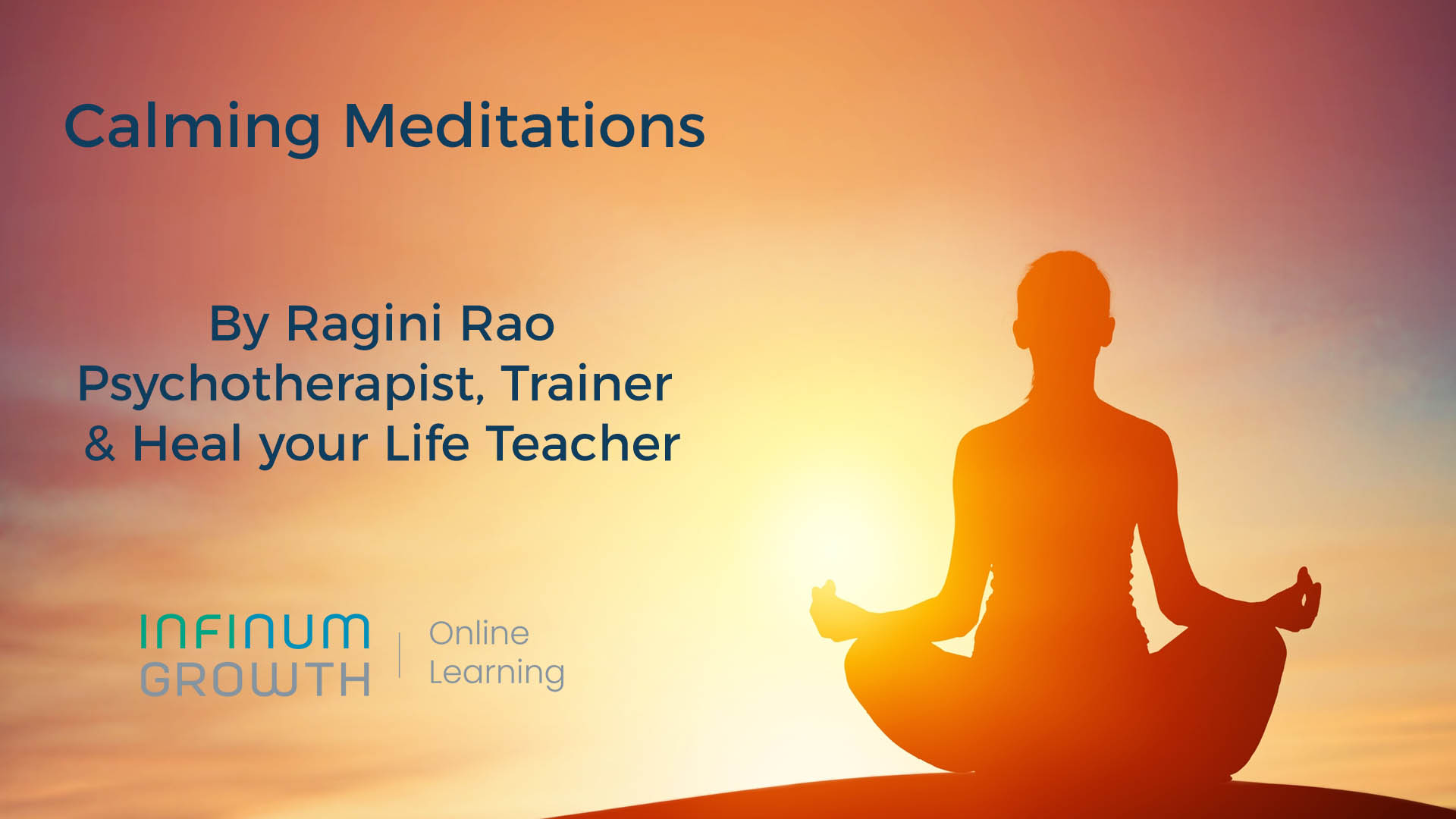 Welcome to InfinumGrowth's series of Calming Meditations by Ragini Rao, Psychotherapist, Trainer & Heal your Life Teacher.
Program Objective
Centering, Grounding and Meditation are the fundamental tools of spiritual practice. These basic Calming Meditations are for everyone and can be practised anywhere.
While our bodies are geared for activity, our minds, given an opportunity, are naturally drawn to settling down. As the mind settles down, we feel calmer and in touch with ourselves and our environment. A calm mind can help the body engage in the chosen activity in a focussed manner.
The grounding, centering and meditation exercises, that are provided here, are Ragini Rao's learnings in her journey of personal growth and development. They have been adapted from different sources and inspired by great teachers like Louise Hay, Shakti Gawain , Ken Mellor and Thich Nhat Hanh.
Calming Meditations
Centering is a visualisation technique, that helps us to focus on the present moment and direct our energy to the centre of our body. It helps us to calm down, yet be aware of our own emotions. Centering allows us to connect with that part of within us ,that serves as an anchor and brings peace to our wavering mind.
Grounding is a practice, that helps us to balance our energies and feel stability in our minds. It helps us to be in touch with our internal and external world. In the process, it enables us to be in touch with reality.
Meditation is an extention of centering and grounding practices. The simple practice of focusing on our breath, allows us to bring our focus to the here and now; and free ourselves from the constant chatter in our minds.
About the Facilitator 
Ragini Rao is a Teaching and supervising Transactional Analyst, Psychotherapist, Trainer & a Heal your life Teacher. To read more about her, please click on the read more button at the bottom of this page.
To listen to this Free Podcast of Calming Meditations, please click on the enroll button and start listening.
Learning Video Content
(
3 Session(s)
|
30 minute(s)
)
Calming Meditations – Grounding

Calming Meditations – Golden Light Meditation