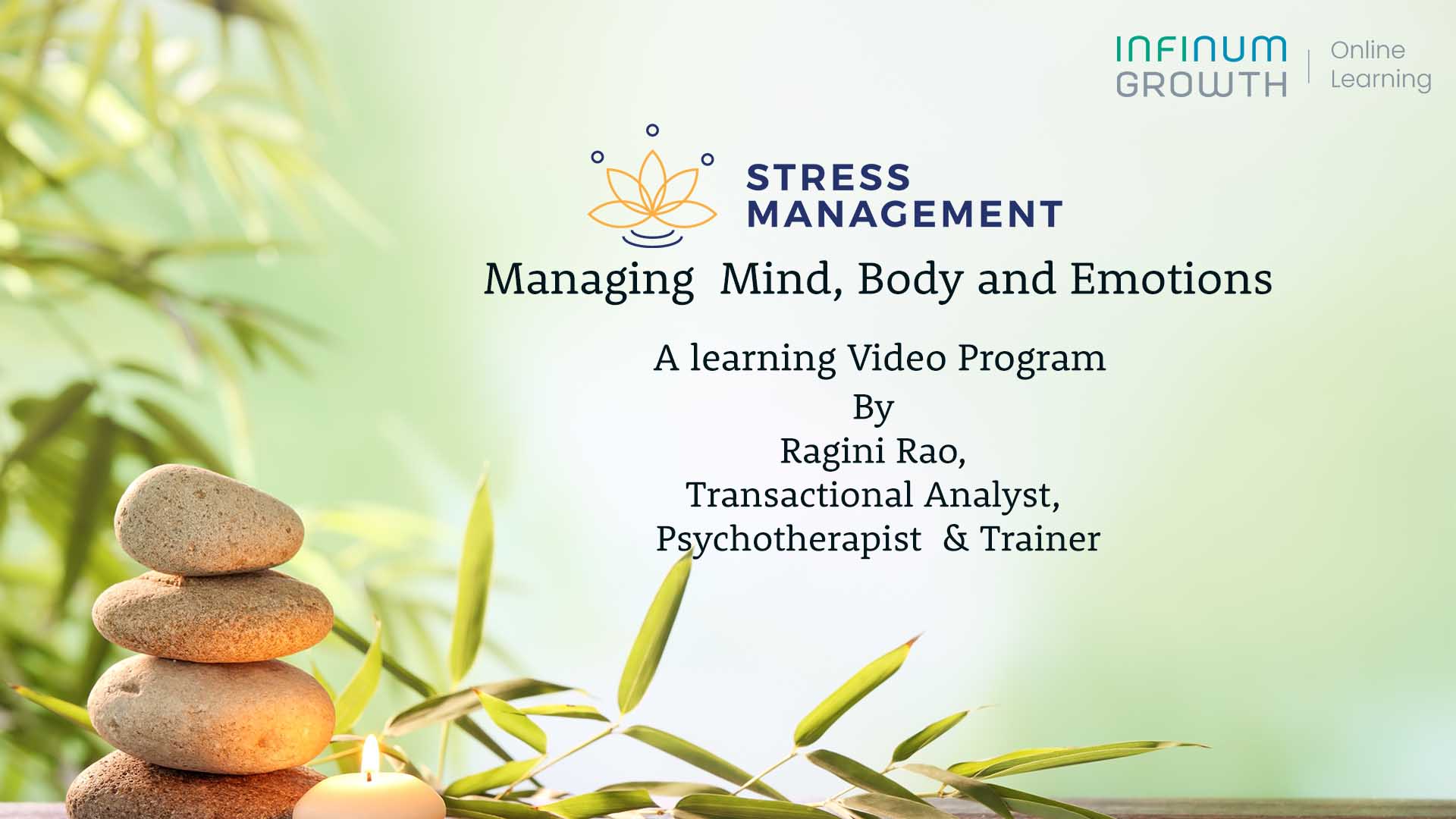 Program Objective
Stress is an individual's perception that events or circumstances have exceeded the person's ability to cope. The reaction to this stressful situation would be different for different people; depending on many factors.
In a dynamic world, with  ever-changing scenarios, we have got accustomed to living with stress almost on a daily basis; whether at work or in personal lives.
However, we are not conscious of the impact it has on our Body, Mind and Soul.
What causes stress?
Why is the same situation stressful for one person but easy for another? What could one do to not be in stressful situations to the extent possible?
Likewise, how could one make changes in life and behaviour, to be able to cope with difficult situations without feeling too stressed?
Meet the Facilitator
.Ragini Rao is a Senior Psychotherapist and Training and Supervising Transactional Analyst (TSTA).
She brings her  strong understanding of the well accepted theory of Transactional Analysis and her vast experience as a Psychotherapist, to deliver a uniquely designed program, which provides a logical framework to the participant to understand one's personal issues.
Ragini Rao speaks in the above video(1 min 40 secs) introducing the program.
Special Counselling Support
On  purchasing and completing the program, avail a special 20% discount for a personal and confidential,  one-to-one interaction of one hour, with an experienced Mental Health Counsellor/Psychotherapist at this InfinumGrowth Platform.
Content Summary
Ragini Rao takes us through an understanding of
Stress and what could be the causes.
The three aspects of the human personality – The Body, The Mind and The Spirit.
Thoughts, Feelings and Behaviour Modes and how they impact the human mind.
How each aspect of the personality, Body, Mind and Spirit, could be managed in order to minimise Stress.
The exercises provided are for self work; in order to introspect and understand oneself and thereby, arrive at the changes one could bring about to minimise Stress.
Duration
The Stress Management Learning Video program by Ragini Rao will take about 1 hour to complete, including the time taken to watch each video and do the introspective exercises.
So, if you are looking to improve your emotional health, start right away!
Learning Video Content
(
1 Module(s)
|
6 Session(s)
|
1 hour(s)
)
Session 3 – The Cognitive Mind – Understanding Values and Beliefs

Session 4 – The Emotional Mind – Managing Feelings and Emotions

Session 5 – Behaviour – How We Respond to Situations

Session 6 – The Spiritual Angle