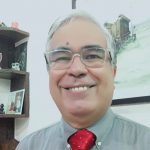 Dr Alexander Martin
MD Psychiatry
Dr.Alexander Martin is a MBBS Graduate from St.John's Academy of Medical Sciences, Bangalore and MD in Psychological Medicine from Mumbai University (Nair Hospital).

He has been in clinical practice since 1996. He is active in Medical Academia as a Professor in Psychiatry with different Medical Schools- MGM Medical College and DY Patil Medical College.

He is also a Trainer and Stress Management Consultant. Dr.Martin is associated with different social organisations catering to the care of the destitute. He is a Writer, Poet and an Art & Music Enthusiast.
Live Training Scheduled
0
Learning Videos/Podcast
0