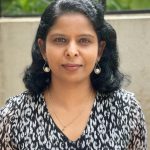 Jennifer Moses
Counselling Psychologist & Therapist
Jennifer Moses is a Counselling Psychologist and Psychotherapist under supervision. She has a Masters in Psychology (Counselling), a Diploma in Transactional Analysis and is trained to counsel children, teenagers, couples and families.
Her core counselling approach is based on Transactional Analysis, an integrative (cognitive, relational, phenomenological, humanistic), and systematic psychotherapy framework, with a focus on holistic change and personal growth. She has experience in counselling individuals, both privately and in a corporate setting, with issues such as stress, anger management, depression, low self-esteem, losses, life transitions, work/life balance, and difficulties in relationships.
She started her career as an IT professional and has a Master's in Computer Applications. She also has 200 plus hours of experience coaching women looking to restart their careers after a break and is a certified PoSH trainer.
Live Training Scheduled
0
Learning Videos/Podcast
0