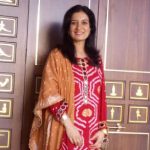 Ritika Bajaj
Creative Expression Expert
Ritika Bajaj is a writer-editor-blogger and content consultant. She helps individuals, startups and companies create digital and print content that accurately and soulfully reflect their brand ethos.

Since the past 18 years, Ritika has written on varied themes like - lifestyle, wellness, spirituality, business, culture, entrepreneurship, productivity and people profiles.

She believes strongly in the power of expression, and through her online publication called Pink Pinjra on Medium.com, she shares her views on the joys, epiphanies and struggles that every creative person experiences on the path.

Additionally, she is deeply engrained in spirituality and yogic philosophy... And, to take her passion for wellness and holistic living further, in 2019-2020, Ritika successfully completed the beginner and advanced level teacher training courses from The Yoga Institute in Mumbai (1100+hours).
Live Training Scheduled
0
Learning Videos/Podcast
0