Teenage is a period of rapid change within – in the body and mind; as well as outside, in an environment with multiple windows, overload of information and often confusing and confounding signals. Especially now, in the post covid era, teenagers require support, to transition back into the physical school and meeting peers.
They therefore need space to step back, absorb all this and navigate effectively.
InfinumGrowth brings to you, a 4 day online workshop on Emotional Literacy for Teenagers, in the age group of 14-16 years.
If you are/have a 14-16 year old, who wishes to grow and develop a stronger sense of self and build confidence, improve performance and improve relationships by learning about his/her
Personal world – emotions, thoughts, behaviours, attitudes, values which influence self-esteem, confidence and autonomy
Social world – patterns of actions and communication which stem from the personal world and influence performance and relationships
Come and join Nisha Rao, Adolescent Counsellor & Parenting Coach, for this experiential workshop.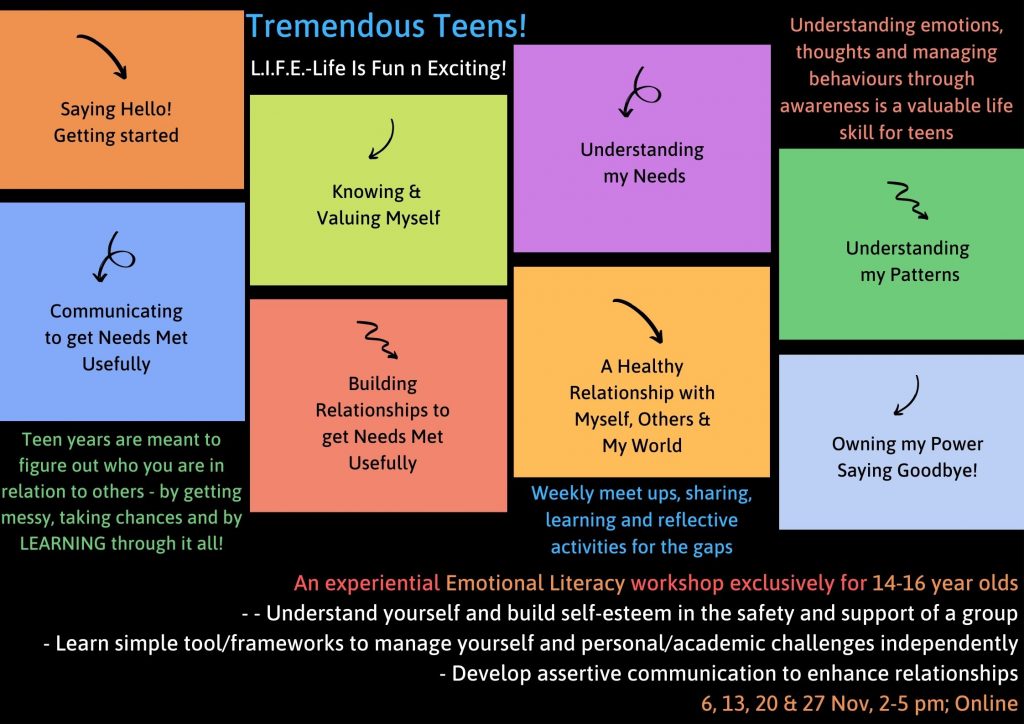 In this workshop, you will learn and appreciate the following:
1.     Personal growth (Autonomy – Identity, Purpose, Skills/Resources):
 Developing a sound sense of self, identity and purpose;through awareness and action of needs, emotions, thoughts, values/beliefs, behaviours and body
 Making smart decisions about self, relationships and life/career goals
Working from one's strengths to stay motivated, confident and present-centric
2.    Social growth (Homonony – Communication, Relationships):
Collaborating and communicating to build relationships within and outside the group – express, impact one another, give and take constructive feedback
Set aside 4 Saturdays, from 2pm-5pm India time for this interesting and enjoyable workshop which has lots of insights and group activities .
Introductory Film
Watch Nisha Rao in this short film explain about her upcoming program.

About the Facilitator 
Nisha Rao is an Educator, Adolescent Counsellor, Parenting Coach and Life Coach. She  works passionately to strengthen one's sense of self – using Transactional Analysis, Neuro-Linguistic Programming, Psychodrama and Child & Adolescent Counselling practices. She runs 1-to-1 and group workshops.
To know more about her, please check out her profile given at the end of this page.