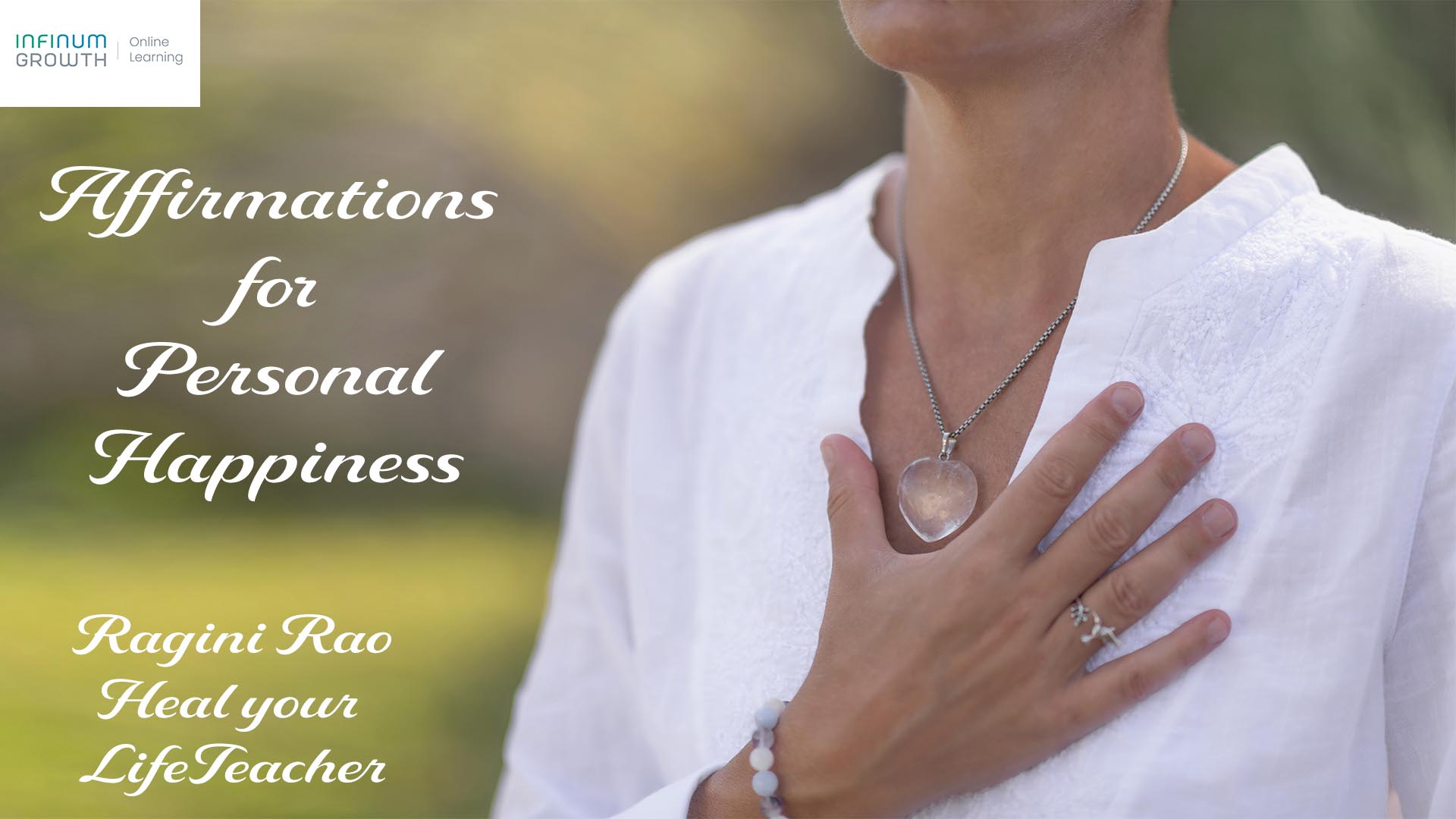 Welcome to InfinumGrowth's series of Affirmations for Personal Happiness, by Ragini Rao, Psychotherapist, Trainer & Heal your Life Teacher.
 Program Objective – The Power of Affirmations
Thinking creates an experience and that impacts us physically and emotionally . If the thinking is positive, the experience is positive too; and so is it's impact. If thinking is negative , the experience is negative too; impacting our physical and emotional health adversely.
We can create new experiences by changing our thinking patterns consistently . Louise Hay was one of the first to write about metaphysical causations in her book Heal your body, heal your life.
Affirmations are positive words which we say to ourselves that talks to our subconscious mind and helps us to create new experiences of ourselves . It is possible for us all to take responsibility for ourselves and make changes even if our past has been difficult .
By taking responsibility we can be in the present and not the let the past engulf us .
Podcast Facilitator
Ragini Rao is a Teaching and supervising Transactional Analyst, Psychotherapist, Trainer & a Heal your life Teacher. To read more about her, please click on the read more button at the bottom of this page.
Ragini Rao says, "I  used to suffer from migraines as a youngster . Thanks to my journey in personal growth and development, I became aware of my thought patterns that created the headaches. I realised, I would often have an internal conflict; and most of my thoughts were very harsh on myself ."
"As I worked on accepting myself as I am and yet making changes at a behavioural level, I started feeling positive emotionally and my headaches disappeared. It's close to 20 years now and I feel so free and liberated."
"A consistent dose of Affirmations helped me sustain the change."
So check out this free Podcast series of Affirmations; a simple way of keeping one's positivity with regular exercise.
 To listen, please click on the enroll button, complete your enrollment and start listening.
Learning Video Content
(
3 Session(s)
|
30 minute(s)
)
Affirmations for Personal Happiness – Affirmations forSelf

Affirmations for Personal Happiness : Affirmations for Health

Affirmations for Personal Happiness : Affirmations for Wealth