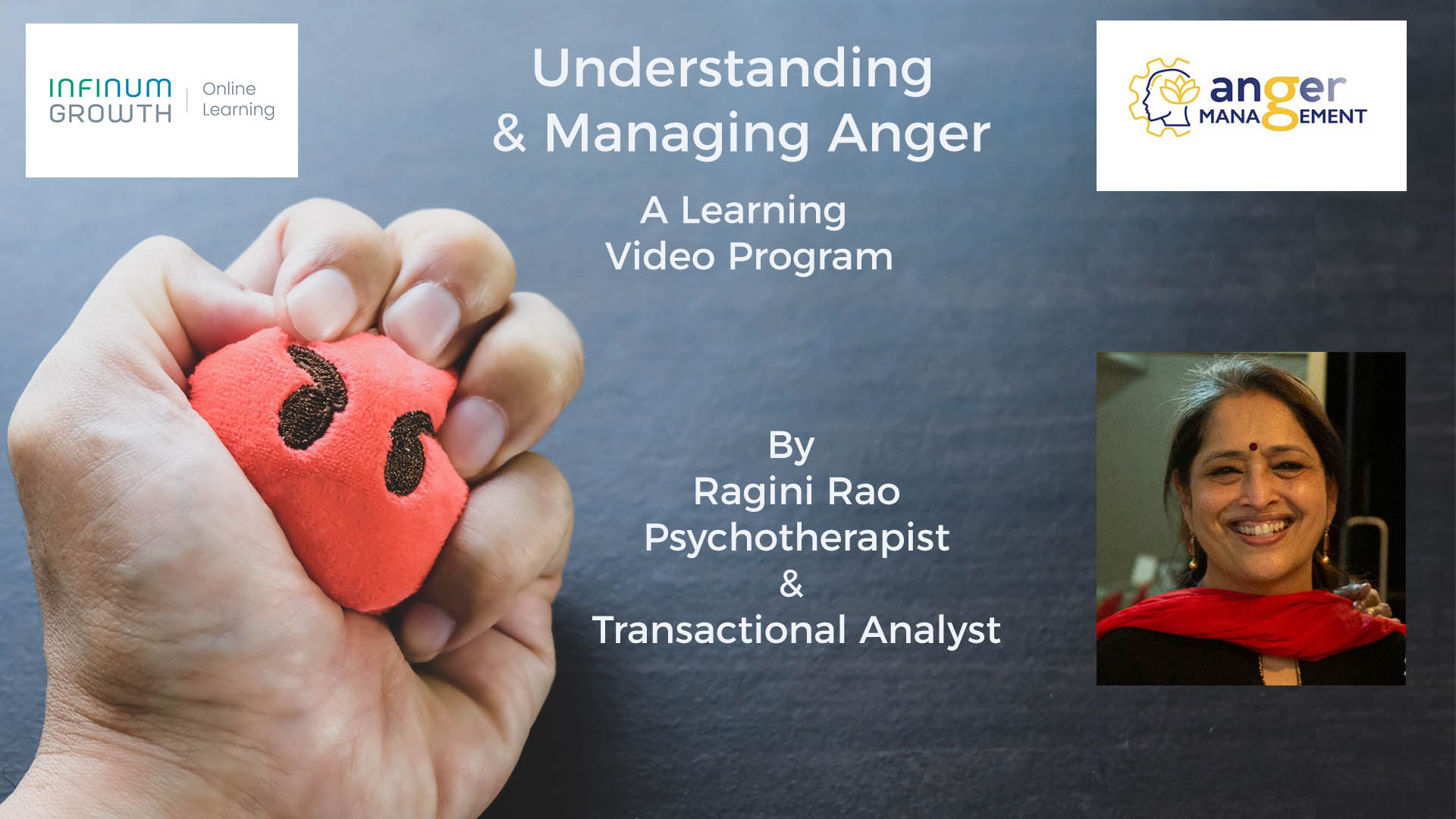 Out of all emotions, anger is the most misunderstood one, as it's often regarded as the unhelpful or destructive one. All of us have gone through, or continue to go through, bouts of anger, some of short duration; and others that stay within us and keep surfacing when some trigger happens.
What are your answers to the following questions?
Are there times you feel angry, but don't know how to express it?
Are there times you are expressing anger, but actually feeling something else ?
Are there times you express your anger and then regret it ?
Are there times when you feel numb and stuck ?
"These are some of the questions and issues I have come across in my work as a psychotherapist. This program was designed to help you out of such situations,"says Ragini Rao, Psychotherapist, Transactional Analyst & Trainer, who is facilitating this program on Anger Management.
Please check out the detailed profile of the facilitator at the end of this page.
Program Introduction
Emotions and feelings are an integral part of our psyche . Fully owning them, acknowledging and expressing our feelings appropriately is part of our emotional intelligence. Many of us may have learnt it by trial and error; some others, as part of our personal development journey; and few of us may not be even aware of it.
We all have four basic feelings – Happy, Sad, Angry and Fear. All other feelings are offshoots of these. Being fully aware of our real feelings, at any given point of time, is crucial in dealing with situations and problems that we face.
What is the truth about Anger? Is it helpful or unhelpful? When is it ok to be angry? and at what point do we need to manage it? How does one understand one's anger and manage it, so that one's life and relationships aren't negatively impacted?
This Learning Video program by Ragini Rao will take you through two sessions –
(1) Understanding Anger 
(2) Managing Anger
The sessions explain the feeling of Anger, help us look within to identify our own triggers and give some simple but effective tips to manage Anger.
Introductory Video
Here is a short video where Ragini Rao explains using her own example this emotion called Anger. She introduces you to her Learning Video program. Watch this film to get an insight into the program.
So, if you are seeking ways to get away from the negative effects of Anger, sign in for this program today!
Learning Video Content
(
2 Session(s)
|
17 minute(s)
)