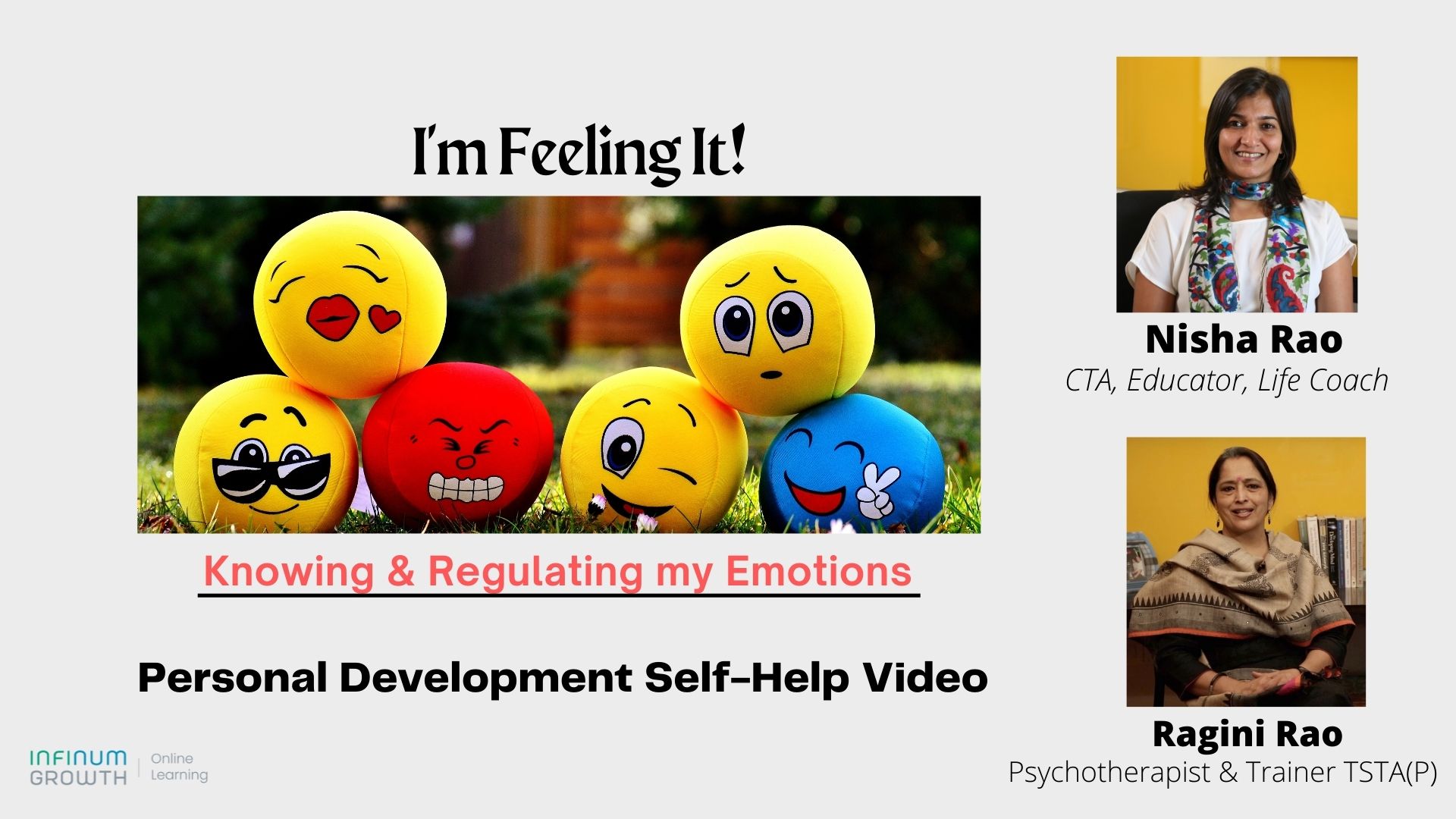 How well do you understand what goes on within you?
When we ask this question, we aren't asking about your name, family, qualifications, hobbies, work, interests etc.
We are asking about how deeply you are connected within; to understand your feelings and emotions; your real needs; your real passions, fears, anxieties, worries.
And, how you truly feel about the way you relate with others; and others relate with you.
Introducing Learning Video Program – Knowing & Regulating My Emotions – I'm Feeling it.
Ragini Rao, Psychotherapist, Teaching & Supervising Transactional Analyst; and,
Nisha Rao, Counsellor, Life Coach, Educator & Certified Transactional Analyst(CTA)
bring to you this learning video program series on Self Development, using the well-established human behaviour theories of Transactional Analysis.
This is an opportunity to learn about your inner needs; and through that, relook at the way you would like to have them genuinely met.
This learning video program of 23 mins duration includes:
One framework, to understand your internal needs and how to strike a balance.
A second framework, to understand emotions and how we develop patterns of emotional regulation.
Self-work exercises to personalise and integrate what you have learnt into your own life
The program, including viewing the full session and completing the self-work and introspection, should take a maximum of 45 minutes to an hour.
To know more about the facilitators, please check out their profiles at the end of this page.
Who will Benefit:
Anyone who wants to better understand their inner world (thoughts, feelings) & its external impact (behaviours) – in personal and professional life; such as, Business & Social Organisation Professionals, Self Employed Professionals, Counsellors, Teachers, Trainers, Homemakers, Parents etc.
Anyone, who
Has difficulty in identifying and regulating emotions, thus impacting relationships and productivity negatively.
Has unhelpful repetitive behavioural patterns (arguing, withdrawing, dominating, etc), causing anxiety and disruptions at home and/or work.
Has a poor sense of self and insufficient boundaries, impacting confidence, performance and inter-personal interactions socially & professionally.
 What You Will Take Away:
Build Self-Awareness & Autonomy to understand and manage your emotions; through a simple psychological framework.
Identify your own Strengths & Areas of Development.
Reflect, Journal & Create an Action Plan for Yourself.
Feedback from Participants
"I recently completed the "Knowing & Regulating my Emotions" self-learning program where I learnt to name my emotions and feelings. This program is helping me in understanding what I am going through and to deal with that emotion. It's enabling a more authentic relationship with myself and thereby with others. Nisha and Ragini deliver the content in a simple and easy-to-follow manner which makes the learning structured and effective. I'm glad I enrolled  and looking forward to more of these modules." Nita 
The InfinumGrowth Edge:
Your emotional safety drives our ethics and quality.
Our learning modules are scientifically designed based on sound Transactional Analysis principles.
We draw from the vast people experiences of internationally trained and certified psychotherapists & educators.
The learning video + follow up live session format give you the flexibility of time without compromising on learning quality.
We provide Emotional Wellbeing support through a team of trained and mature Counsellors/Psychotherapists.
After completing this program, you could meet a Counsellor/Psychotherapist from the InfinumGrowth team,  if you wish to get more clarity or bring focus on personal  issues that are on your mind.  Click here to understand the Counselling Service and see the team profile.
We offer you a special 15% discount for the first session. Do write to us for this at therapy@infinumgrowth.com or WhatsApp us at +91 8072129158.
We do hope you will find this session useful and look forward to your feedback! Please do click on the Feedback Tab at the top of this page and share your comments.
Learn at your own Time; Learn at your own Pace!
Learning Video Content
(
1 Session(s)
|
23 minute(s)
)
Knowing & Regulating my Emotions

Knowing and Regulating my Emotions – I'm Feeling it