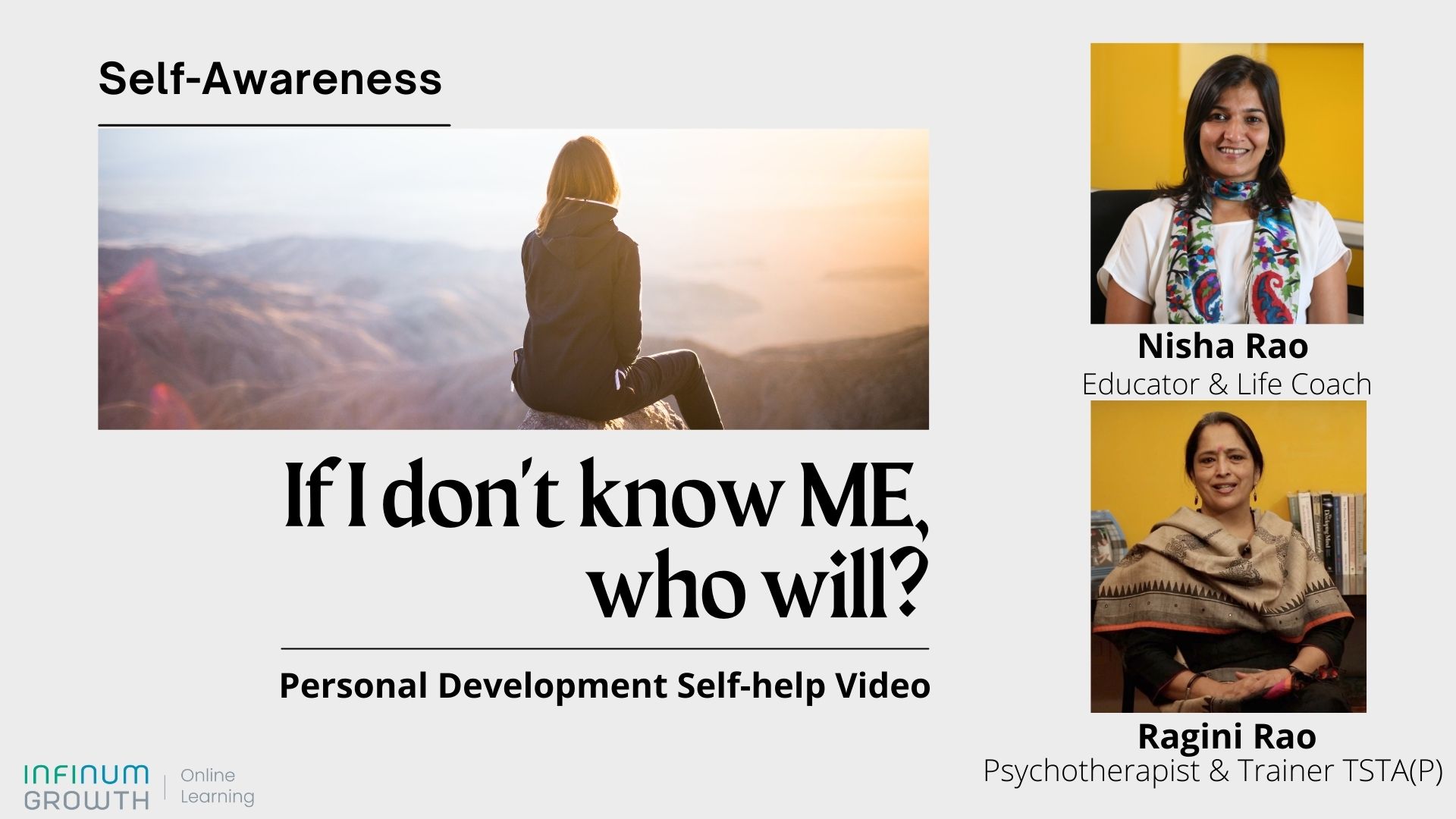 How well do you know yourself ?
When we ask this question, we aren't asking about your name, family, qualifications, hobbies, work, interests etc.
We are asking about how deeply you are connected within; to understand your feelings and emotions; your real needs; your  real passions, fears, anxieties, worries.
And, how you truly feel about the way you relate with others; and others relate with you.
About the Learning Video Program
Ragini Rao, Teaching & Supervising Transactional Analyst; and,
Nisha Rao, Educator, Counsellor, Parenting & Life Coach;
bring to you this Learning Video program on Self Discovery; using the well established human behaviour theories of Transactional Analysis. An opportunity to build your Self Awareness and through that, relook at the way you would like to address your life journey ahead and the way you manage your relationships.
The learning video program of 28 mins duration includes
A Behaviour theory framework to understand oneself and one's interaction style with others
A conversation between the two facilitators on applying this to real life situations
Self work exercises to help understand  and specifically identify one's style
The program, including viewing the full session and completing the self work and introspection, should take maximum of 45 minutes to an hour.
To know more about the facilitators, please check out their profiles at the end of this page.
Who will Benefit:
Anyone who wants to better understand their inner world (thoughts, feelings) & it's external impact (behaviours) – in personal and professional life; such as, Business & Social Organisation Professionals, Self Employed Professionals, Counsellors, Teachers, Trainers, Homemakers, Parents etc.
Anyone, who
Has difficulty in identifying and regulating emotions, thus impacting relationships and productivity negatively.
Has unhelpful repetitive behavioural patterns (arguing, withdrawing, dominating, etc), causing anxiety and disruptions at home and/or work.
Has a poor sense of self and insufficient boundaries, impacting confidence, performance and inter-personal interactions socially & professionally.
 What You Will Take Away:
Build Self-Awareness & Autonomy to manage yourself; through a simple Psychological Framework.
Identify your own Strengths & Areas of Development.
Reflect, Journal & Create an Action Plan for Yourself.
The InfinumGrowth Edge:
Your emotional safety drives our ethics and quality.
Our learning modules are scientifically designed based on sound Transactional Analysis principles.
We draw from the vast people experiences of internationally trained and certified psychotherapists & educators.
The learning video + follow up live session format give you the flexibility of time without compromising on learning quality.
Short film
Watch Facilitator Ragini Rao talk in this short film on breaking your patterns of Behaviour
After completing this program, you could meet a Counsellor/Psychotherapist from the InfinumGrowth team,  if you wish to get more clarity or bring focus on personal  issues that are on your mind.  Click here to understand the Counselling Service and see the team profile.
Learning Video Content
(
1 Session(s)
|
28 minute(s)
)
Self Awareness: If I don't know me, who will ?