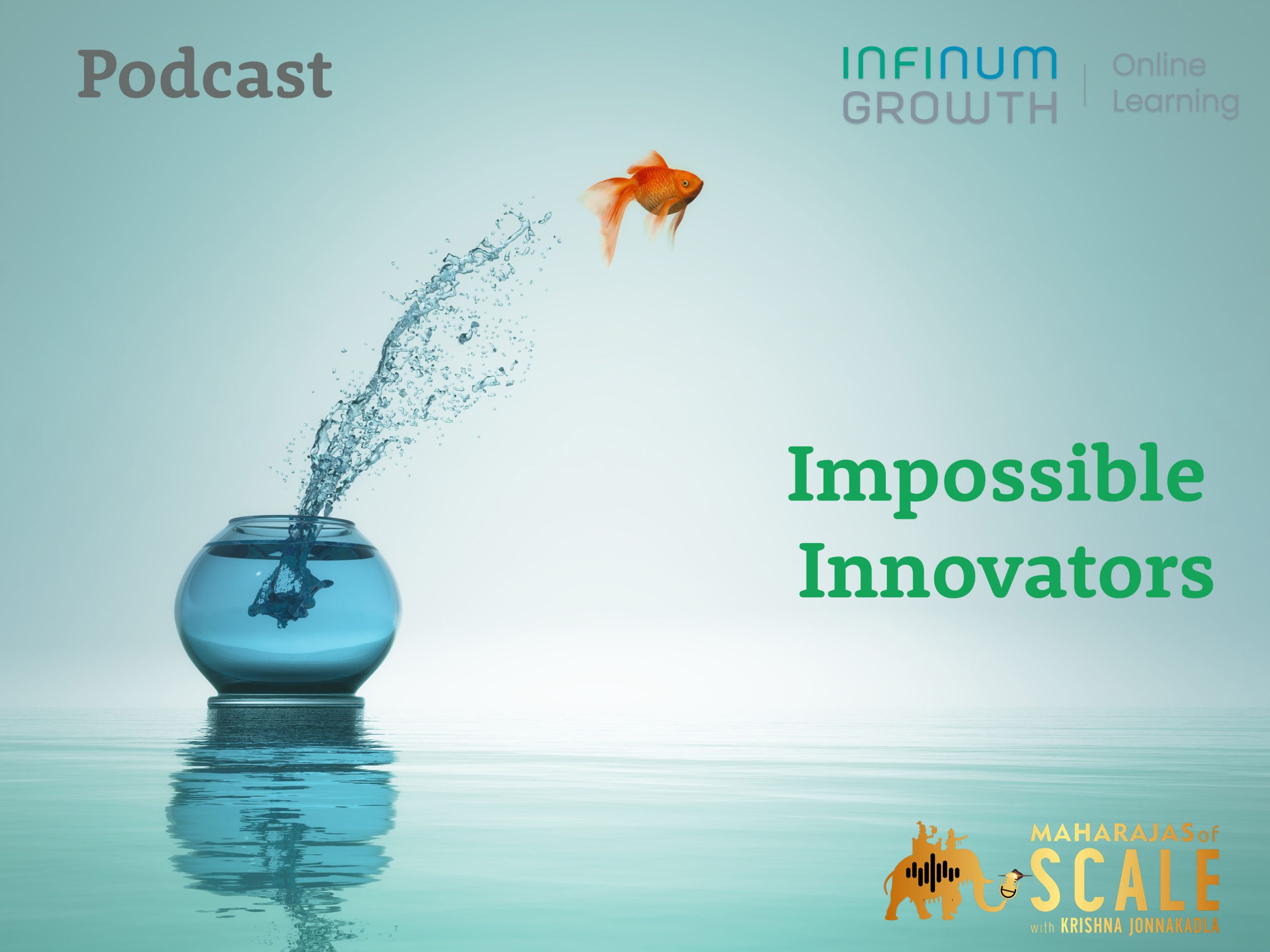 Startup entrepreneurship is a journey that many can't think of; or wouldn't want to take, due to the risk and effort involved. Making a success of it gives a satisfaction, few other endeavours can match.
At present, hardly 10% startups in India eventually succeed. Amongst the successful ones are many, what we call,  impossible innovators; who have beaten all odds in terms of childhood background, education and experiences, to achieve their goals.
For any observer, the wow factor of the success lies not just in the business idea or execution story of a successful startup enterprise. It comes more from the doggedness, grit and determination  displayed to fight all odds; by people who were least expected to jump into entrepreneurship.
InfinumGrowth collaborates with Krishna Jonnakadla and his Maharajas of Scale, a podcast venture, to curate and bring forth sets of podcasts; interviews with startup entrepreneurs,  that give you amazing stories of entrepreneurial journeys. Stories that provide great learning about strategy, agility and mental strength ; which could become benchmarks in your own startup journey.
Read the complete profile of Maharajas of Scale at the bottom of this page.
Program Introduction
Impossible Innovators is the first of many curated themes on offer . Here we bring together stories of the following 3 startup entrepreneurs, who started from unique and unexpected backgrounds and situations; to build their success stories. Listen to their stories and get inspired to become an Impossible Innovator!
1. Amit Mishra, Founder, imocha
imocha is a skill assessment and interview management SAAS venture. Amit Mishra, Founder imocha, started life in a slum in Amravati town of Maharashtra. His parents' passion for teaching for social good, built a value system that came in handy in differentiating and educating himself. He took the brave decision to let go of a promising career with multinationals, to launch his startup venture, which has scaled up rapidly to clock $2 million ARR in just 5 years. Linkedin profile
2. Vivek Khandelwal, Founder, iZooto
iZooto is a uniquely designed Owned Audience Marketing Platform. Vivek Khandelwal, the Founder, got inspired about life and entrepreneurship, as he went through a mind opening journey with Jagriti Yatra, during his days at IIT Mumbai;  and jumped at an invitation to join a startup in the edtech space even before he finished his education. His journey from there on to eventually launching izooto, running it bootstrapped, making it profitable within a year; and, reaching scale with multi billion notifications per month is a story worth hearing to get ideas and inspiration. Linkedin profile
3. Gotama Gowda, Founder, Open App
Starting from a humble background in Bengaluru, Gotama Gowda pursued an entrepreneurship dream right from college days; chancing his arm in the property business and then food business before taking an amazing turn towards IOT! His venture, Openapp,  offers Smart Lock systems for consumer and enterprise applications. The venture is rapidly growing; clocking a 15x growth in a short span of 5 years! Gotama and his co- founder Siddhesh Keluskar have been featured in the Forbes 30 under 30 category in 2020. Linkedin profile
So, get ready to listen to the stories of the impossible innovators. Register for this program and get access to the three podcasts. Listen to them at your own time and enjoy the food for thought!
Learning Video Content
(
1 Module(s)
|
3 Session(s)
|
4 hour(s)
)
The Impossible Innovators

Amit Mishra – The Slumdog's journey to high growth SaaS

Vivek Khandelwal – A college time train journey leading to entrepreneurship

Gotama Gowda – From Journalism to multi million dollar IOT startup