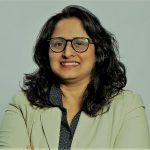 Shalini Gupta
PR & Brand Professional
A marketing and brand evangelist with an experience of 2 decades, Shalini Gupta is a prolific marketer having worked in organisations such as Bharti Airtel Limited, Reliance Broadcast Limited, Grey Worldwide, Lokmat Media & INOX LEISURE.

A Xaverian from Kolkata, she has worked across diverse sectors such as Telecom, TV, FMCG, Print and Entertainment; impacting businesses with her innovative ideas and fulfilling business objectives with the combined use of traditional and new media.

Shalini has worked on campaigns such as -rollout of Bharti Airtel across East, Mumbai Indians Campaign for Loop Mobile, RIN & Lokmat Jalsamrudh, Maharashtra, Launch of Lokmat key IPs as Lokmat Maharashtrian of The Year, Launch of ICC campaign on screens at INOX and many more.

She has been a visiting faculty for 3 years at Bharathidasan Institute of Management, Trichy and given guest lectures at Amity Business School, Chetna Institute, GNVS Institute of Management and HK Campus, Mumbai on Digital, PR, Social Media & brand building.

A mother of two, a passionate music lover and a crusader of diversity and inclusiveness, Shalini has won awards such as Emvies, Foxglove, Olive Green and ACEF for social and cultural initiatives. With a zest for life, she believes communication plays a pivotal role in anything that we do, at anytime in life.


Live Training Scheduled
0
Learning Videos/Podcast
0