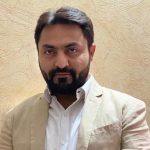 Nischal Kapadia
Strategy( Edelweiss) / Mentor of Change(Niti Aayog)
He is a IIM-C alumni in addition to being a CS & LLB working with Edelweiss Group. Here he handles Strategy & Projects as part of the CEOs office at Edelweiss Global Asset Management having presence in domestic as well as international geographies like US, UK & APAC. Prior to this he was Head of Business Compliance & Legal. He has also been in the key leadership groups at Edelweiss from time to time such as Emerging Leaders and Business Leaders Group. .

Apart from his professional engagements, he is very active in the startup and academic ecosystem.

Startups

Mentor of Change under Atal Innovation Mission, a flagship initiative by the NITI Aayog (Govt of India) where he advises incubation centre's and startups

i. He Has mentored over 30 startups

ii. Regular speaker and a jury member at national level startup events organised by IIT-B, SP Jain, VJTI, 91Springboard Jai Hind College, Mithibai College

Academic endeavors

i. Member of Harvard Business Review Ascend Select

ii. Guest Member: Board of Studies at Jai Hind College, Mumbai

iii. Panel Member - students selection: 6 IIMs & WeSchool

Iv. Guest faculty: Carleton University, Canada, WeSchool, other top B-Schools

He has also been interviewed by social media platforms such as 'Timeline with Sagar – FB Live', NewAge Business Hour' – Digital News Portal on YouTube, and EVAH TV on YouTube.
Live Training Scheduled
0
Learning Videos/Podcast
0