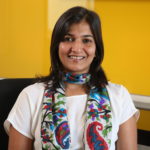 Nisha Rao
Adolescent Counsellor & Parenting Coach
Nisha Rao is an, Educator, Counsellor and Parenting Coach.

With over 20 Years experience in people & process management practice, Nisha facilitates workshops on behavioural transformation in • Parenting • Enhancing communication & relationships through Self-Awareness • Personal / professional development for Children & Adults

With a unique blend of experiences in corporate Learning & Development, teaching in schools and independently running her own consultancy, Nisha works to empower and educate:
- children & youth
- parents & teachers
- professionals & organisations

Nisha works passionately to strengthen one's sense of self using Transactional Analysis, Neuro-Linguistic Programming, Psychodrama and Child & Adolescent Counselling practices. She runs 1-to-1 and group workshops with the focus on augmenting one's self-worth through:
- increasing self-awareness & Emotional Intelligence
- improving one's motivation & performance
- learning to communicate impactfully & usefully
- enhancing personal & professional relationships

Nisha Rao is co-founder at InfinumGrowth.
Live Training Programs
12
Live Training Scheduled
0
Learning Videos/Podcast
2