Facilitators
Personal Development is a continuous, 360 degree process. Every aspect of one's behaviour, knowledge and understanding needs continuous update. Learning Videos at InfinumGrowth provide an opportunity to improve a wide range of capabilities, in personal life and at work; at one's own time and pace.
Each video program has a set of well designed learning modules designed and facilitated by experienced professionals, who share their own personal learning and experience to enrich the content.
On completing a program, write to us at learning@infinumgrowth.com, for a free, live, interactive session with the facilitator to clarify answers to questions that may arise.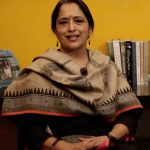 Ragini Rao
Transactional Analyst, TSTA; Heal your Life Workshop Leader
Ragini Rao is a Teaching and Supervising Transactional Analyst (TSTA). She trains and supervises advanced training groups in Transactional Analysis to become Psychotherapists, Coaches and Trainers.

She provides Supervision to Counsellors & Psychotherapists in their work with clients.

Ragini takes on individual clients for Life Coaching and Psychotherapy sessions.

With over 5000 hours of one-on-one and group counselling and therapy, over a span of 25 years, she has addressed problems pertaining to Relationships, Marital Issues, Depression, Grief, Low Self Esteem and Sexual, Verbal and Physical Abuse.

Ragini is also a licensed workshop leader for the "Heal your Life" programs based on the philosophy of world renowned author Louise L. Hay. She conducts the Heal Your Life workshops in offline settings.

As a co-founder of InfinumGrowth Ragini supervises all the Counselling, Psychotherapy and Training Services. She conducts online training programs and workshops on the platform, on different aspects of human behaviour and personal growth. Her Corporate training programs focus on Personal Development and Growth, focussing on Self Discovery, Inter-personal relationship skills, Team building and Team management skills.

Ragini Rao regularly conducts the TA 101 program, the first level certification program in Transactional Analysis, for individuals wanting to improve self awareness or aspiring to become psychotherapists.


Major Programs & Assignments
1.Corporate Training programs for large companies such as the Adani Group, Mindtree Consulting, ITC Ltd, Medtronic India, Tesco India, Huawei Technologies and Novozymes.
2.She is a former President of South Asian Association of Transactional Analysts (SAATA)
3.Apart from different cities across India, Ragini has conducted programs in Singapore, Indonesia and Bangladesh.
Education and Certifications
1. B.A. Psychology (hons.) from Delhi University
2. M.A. in Psychology from Delhi University.
3. Certified Behavioural Counsellor from Parivartan, a Counselling & Training Organisation at Bangalore.
4. Neuro Linguistic Programming; Basic practitioner's course conducted by Richard McHugh, a NLP trainer from the USA.
5. Certified Psychotherapist in Transactional Analysis from the ITAA.
6.Teaching and Supervising Transactional Analyst - TSTA (Psychotherapy) from the International Transactional Analysis Association (ITAA).
7. Heal Your Life-(Louise Hay)- licensed workshop leader.
Live Training Programs
37
Live Training Scheduled
1
Learning Videos/Podcast
5